Description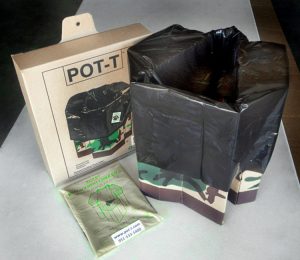 "Rated the best portable outdoor camping toilet in the world!  Portable Outdoor Travel – Toilet (POT-T) goes anywhere you have to go!"
Super strong degradable, yet reusable portable toilet that comfortably holds a seated 350 lb. person. POT-T is waterless, weighs a mere 1 lb+ and fits in any standard backpack. A revolutionary sanitary convenience when camping, hunting, fishing traveling and for any and all emergencies where sanitation is an issue. POT-T is essential in our wilderness and National Parks where the motto is, "Leave No Trace."
POT-T will in fact save lives in a post-event scenarios as a 'first-line-of-defense" item. POT-T immediately helps suppress a wide variety of deadly insect vectored human waste diseases.
EASY: A degradable plastic liner is inserted into the center well, and the liner is disposed of according to local guidelines. POT-T is reusable, if not soiled.
POT-T has proven invaluable during water and power outages, and post natural disasters, earthquakes and hurricanes. Presently in use at a number of high risk locations around the globe.
It is often said, "We are the number one portable toilet in the number two business!"
Camping, hunting, fishing, trail hikes and wilderness sites
Earthquake disaster, Preparedness Kits, and utility outages
Isolated construction and rural job sites
Private aircraft and boats/platforms
Homeless camps and emergency public sanitation
Relief/refugee camps disease prevention (UNICEF & Doctors w/o Borders)
Fire fighting lines, Law Enforcement, and evacuations
DARPA (military) tested
"Warfighter Approved." Military exercises/situations (land/sea/air)