"BEST Travel, emergency, camping, and wilderness toilet in the world!"
Visit us at "SURVIVALCON" booth in Farmington, Utah, May 13 14. http://survivalconvention.com/
Visit us at the "GREEN FESTIVAL EXPO," booth #429, September 16-18, Los Angeles Convention Center, CA. http://www.greenfestivals.org/
Visit our booth at the "AUSA EXPOSITION" October, U.S. Army/Defense Conference and Exposition, Washington, D.C.
POT-T is ready anywhere you have to go!" The POT-T is an incredibly STRONG degradable seat designed for use as a personal outdoor travel toilet. The unit weighs a mere 1 lb+ and fits in any standard backpack.  POT-T is the perfect necessary item to have at arm's reach when camping, hunting, fishing traveling and for all emergencies where sanitation and comfort is of the up most importance. POT-T is 'the item' to have in support of our wilderness and National Parks environmental motto of "Leave No Trace."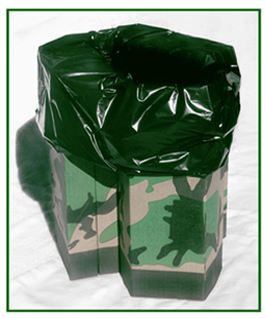 When the POT-T seat is used as a toilet, a degradable plastic liner is simply inserted into the center well and later disposed of. If the POT-T is not soiled during use, it may re-use repeatedly.
The POT-T has proven itself invaluable during water and power outages, and after natural disasters, earthquakes and hurricanes. It is presently in use at a number of high risk locations around the globe.
Relief/refugee camps disease prevention (UNICEF & Doctors w/o Borders)
Military exercises/situations (land/sea/air)
Disaster areas
Isolated construction and rural job sites
Private aircraft
Boats/platforms
Camping/wilderness locations
The POT-T is:
easy to setup and requires no training on the part of the user.
first line of defense against vectored human waste diseases
the most affordable toilet of its kind in the world.
totally degradable
ultra lite weight
can be emergency air dropped anywhere in the world, where landing is not an option.
has a 50 year shelf life.

POT-T

Ships same day

due to strong demand shipping will vary from 2 weeks to 30 days.