"Rated the best portable outdoor camping toilet in the world!
Portable Outdoor Travel - Toilet is ready anywhere you have to go!"
See at the following expos
"Overland Expo 2017," Flagstaff, AZ, May 12-14
"NOVUS," United Nations, New York City, NY, July 2017
AUSA EXPOSITION" October, U.S. Army/Defense Conf & Expo, Wash., D.C.
"Preparedness Sanitation" Chicago, Ill.
Super strong degradable collapsible toilet that comfortably holds a seated 350 lb. seated person. Waterless, weighs a mere 1 lb+ and fits in any standard backpack.  A remarkable sanitary convenience when camping, hunting, fishing traveling and for all emergencies where sanitation is important. POT-T is essential in our wilderness and National Parks whose environmental motto is, "Leave No Trace."
POT-T will in fact save lives in a post-event scenarios by it's use in 'first-line-of-defense" where it helps suppress a wide variety of deadly vectored diseases.
A degradable plastic liner is inserted into the center well, and the liner is disposed of according to local guidelines. POT-T is reusable, if not soiled.
POT-T proven invaluable during water and power outages, and after natural disasters, earthquakes and hurricanes. Presently in use at a number of high risk locations around the globe.
Camping, trail hikes and wilderness sites

"Warfighter Approved." Military exercises/situations (land/sea/air). DARPA tested.
Earthquake disaster and utility outages
Isolated construction and rural job sites
Private aircraft and boats/platforms

Homeless camps and public sanitation

Relief/refugee camps disease prevention (UNICEF & Doctors w/o Borders)
It is: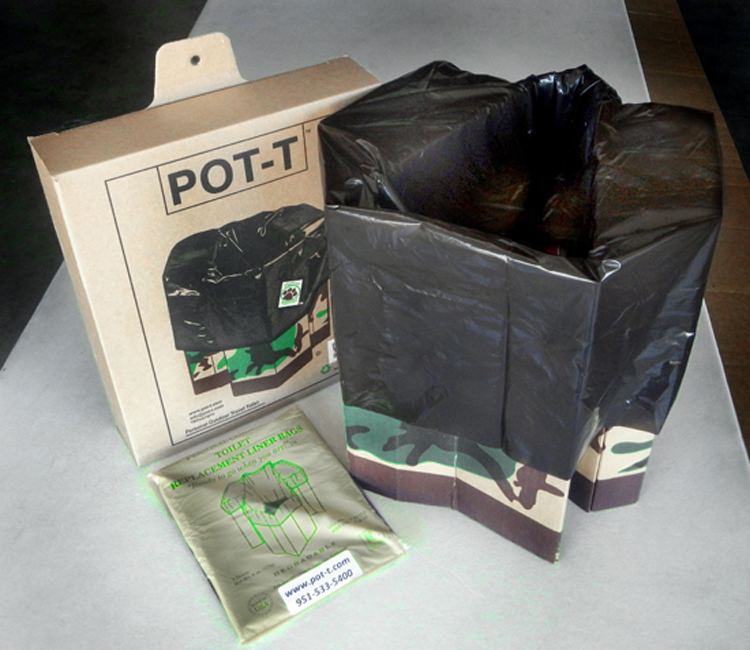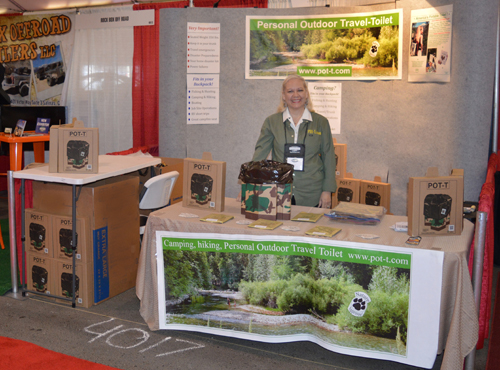 easy to setup and requires no training on the part of the user.
extremely compact
waterless
ultra lite weight
totally degradable
Lifesaver, first line of defense against vectored human waste diseases
Air-drop approved anywhere in the world, where landing or ground delivery is not an option.
has a 50 year shelf life.
globally affordable

POT-T

Ships same day

due to strong demand shipping will vary from 2 weeks to 30 days.

Online Price:  $22.95 plus shipping

To ORDER NOW email us at This e-mail address is being protected from spambots. You need JavaScript enabled to view it
For Wholesale pricing and minimum orders contact us.
For information and specification details email us at This e-mail address is being protected from spambots. You need JavaScript enabled to view it
Or call 951 533 5400